Yep thats right... I am really chuffed with these style pants, I like the rolled hem, I should get years out of them I think..maybe..lol.. All except I cant work out how I want to do the waist band, I have tried 3 diff ways so far and not happy with any.. I got some of this fabric really cheap at spotlight so the fabric all up probably amounts to $2 per pair of pants.. bargain!!! I have decided I am not buying clothes for Quinn anymore I am just going to make them, Taegan is a bit harder to please tho!
Anyhoo here are the pants, the darker ones are filthy cause he was wearing them in the yard today but I shook the crap out of them so they are passable for a pic.. and they look majorly cute on him..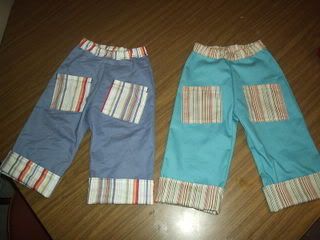 Also is one of two baby wrap tops from otto that I made, I made one for a friends little bub Atticus and one for my sis inlaw's bub Elwood..