I love bags, and I love free patterns..LOL
OTTOBRE design have some great free patterns on their site..
I started making a bird bag for my daughters friend for her birthday but after I finished it I thought she would be too old for it, so I will keep it for a younger girl..
It was the fiddliest thing to make, I am not sure if I will do another. Unless I was asked extremely nicely..!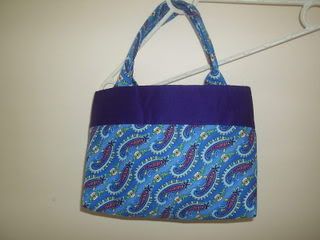 I also have made some other bags using a free pattern from Ottobre..
A Button Bag and a paisley bag.. I lurve fabric!!!
Here is a pic of the paisley.. I love the colours in this fabric.